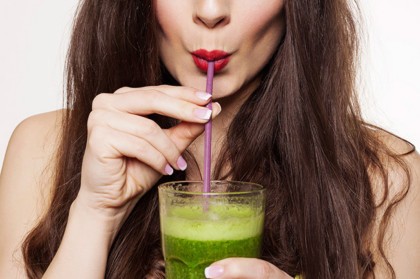 1. You make green smoothies for breakfast, because you know they are full of nutritional goodness and fibre.
2. You love strolling through health food stores to see what newsuperfoods or raw bars you haven't tried yet.
3. Your favourite thing to do on the weekend is go to your local farmers market to stock up on fruit and veggies, because you know that eating fresh, in season produce that is pesticide free is much better for your health.
4. You grow your own herbs and use them when you cook.
5. You make raw, sugar-free desserts with ingredients like cacao, chia seeds, avocado and coconut, and naturally sweeten them with medjool dates, mesquite or lucuma.
6. You have homemade fermented veggies lined up along your kitchen bench. You know that adding some to meals is one of the best ways to boost your friendly gut bacteria and in-turn digestion and immunity.
7. You make your own yoghurt and almond milk, because you don't like sweetened store bought varieties.
8. You wouldn't dream of having bottled fruit juice, it has to be a fresh veggie juice with ingredients like kale, beetroot, carrot, cucumber, celery, spinach, and ginger.
9. You super charge your meals by adding nutritional powders like acai,spirulina, super greens, and maca.
10. You go for purple carrots, not the regular orange type, because they are rich in antioxidants, and you go for super berries such as acai, maqui, goji and camu camu over common strawberries and blueberries.
11. You activate your nuts and sprout your own grains, seeds and legumes, to increase their digestibility and nutritional content.
12. You proudly take pictures of everything you cook and post it on Instagram or Facebook.
Source: bodyandSoul