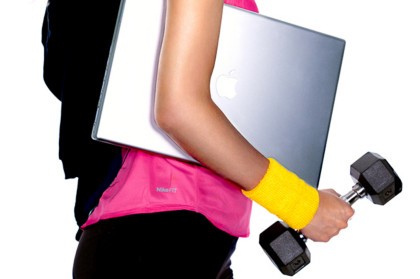 Imagine if your mobile phone could warn you of an impending heart attack or send out an alert to a passerby. Or if your iPad could connect you to a specialist who could diagnose depression by looking at your facial expressions.
You may not need to use your imagination for long. This type of technology is coming, while other innovations are already being embraced by doctors.
According to experts, the biggest change to health care is the ability to measure and record medical data quickly using smart devices, which a decade ago would have cost thousands of dollars.
There's an app for that
Dr Steve Hambleton, the president of the Australian Medical Association, says the application of such technology is only limited by the imagination of the developer.
Among the more popular apps currently being used are blood pressureand glucose trackers. Many work with devices that plug into mobile phones; some can even send results direct to your doctor. There are apps that can monitor calorie intake and email updates to a food counsellor, and others that allow toddlers to tell doctors about their level of pain.
"We are becoming more open to these kinds of things," Hambleton says. "Currently they tend to be used in specialised areas, but it will increase more and more for both remote monitoring and home use."
At the Hunter Valley Private Hospital in New South Wales, patients who have lost their language skills following a stroke or major brain injury are using iPads as part of rehabilitation.
Senior speech pathologist Amanda Freund says a program called Language TherAppy, which costs just $64.99, is helping even those aged in their 80s. "It definitely motivates patients and is more interesting than paper work sheets, which is what we had been using,'' Freund says.
Some doctors are throwing away their clipboards and keep track of patients using iPads. In Victoria, Cabrini Health, the state's largest private Catholic health service provider, is among those moving to electronic medical records, giving doctors easy access to information needed for decision-making, wherever they may be.
Novel therapies
Technology is exciting health care professionals in other ways too.
Australian and US researchers are already exploring the use of a stick on tattoo-like heart monitor, which would sit on the chest and send off a distress signal and even contact emergency services if necessary.
At the Cedars-Sinai hospital in Los Angeles, FaceTime, a video chat function, is being used to help bed-bound mothers with babies in the Neonatal Intensive Care Unit bond with their bubs.
Twice a day, mums recovering from complicated deliveries are able to see their baby using an iPad. While a video call is not as good as a cuddle, it provides an important link in those crucial early days.
Digital diagnosis
Psychologists are also embracing new technology.
At the University of Southern California, researchers have developed a system using sensors that analyse body language linked to anxiety, nervousness, depression and happiness. An animated avatar acts like a virtual therapist and asks the subject leading questions. Software then analyses gestures and speech patterns that may indicate a problem.
Les Posen, an anxiety management specialist psychologist from Melbourne, uses heart monitors and software downloaded onto iPads and iPhones to teach a calming breathing rhythm for stressful situations.
"I've used such biofeedback with children as young as 12 to help them with their fears, and they love it, especially controlling games with their newly found breathing and focusing skills,'' Posen says.
While technology won't replace one-on-one sessions with a professional, it can provide vital care between appointments at a fraction of the cost, or help reduce waiting times for treatment.
Children with an autism spectrum disorder can wait up to a year before getting access to an intervention program. But now, thanks to a $100 app developed by Deakin University, they can start therapy as soon as they are diagnosed.
Patients in remote areas are also benefiting from technology. At Monash University, high-capacity broadband is being used for videoconferencing and transfer of patient records and test results for rural cystic fibrosis patients.
Calming kiddies
The West mead Children's Hospital in Sydney is using iPads to help youngsters undergoing procedures that may seem frightening, such as CT scans and radiography. Therapist Cathy Quinn says programs on the devices help familiarise young patients with a sequence of events and assists them in gaining confidence and control. They are also used to minimise wriggling during procedures. "It's much cooler to pull out an iPad than a Where's Wally book," she says. "iPads don't work for everyone but at the very least they do help provide some support, comfort and distraction."
Source: bodyandSoul