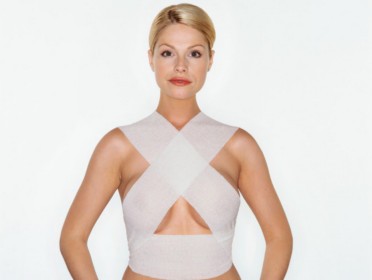 Lose the fat from your bottom and use it to boost your breast size. It sounds too good to be true, but Australian plastic surgeons are pushing for the green light for a pioneering breast augmentation procedure that does exactly that.
The procedure, known as fat grafting (or autologous fat transfer), uses fat from a person's thighs, stomach or buttocks and implants it in the breast.
It is already performed in the US and Europe, but is not widely available in Australia as most medical indemnity insurers here will not yet cover the procedure. That could change within a year, with the Australian Society of Plastic Surgeons (ASPS) in talks with insurers over the technique.
Dr Graham Sellars, NSW president of the ASPS, believes the procedure has the potential to become "one of the main techniques for both cosmetic and reconstructive breast surgeries".
In the wake of the health scare surrounding the PIP (Poly Implant Prothèse) silicone breast implants, consumers are more wary of putting foreign objects in their bodies, which makes fat grafting an appealing concept. "People will prefer to have their own tissue to something synthetic if it gives comparable results," Sellars says.
However, Sellars cautions the procedure is more expensive and time-consuming than implants, and can only provide a modest enlargement.
Dr Kourosh Tavakoli, a Sydney plastic surgeon who specialises in breast augmentation, says he opposes the technique. "Fat grafting for breasts is still in its infancy, and has too many disadvantages over implants," Tavakoli says.
How it works
The first stage of fat grafting usually requires the patient to wear a special bra for about a month, for several hours each day. The bra has a suction device, which helps to expand the breasts in preparation for extra fat. Then there is the surgery, usually done under local anaesthetic, where fat is removed from one section of the body and inserted into the breast.
After the surgery, the suction bra is worn again for a week or so.
Fat grafting itself is not new. In the late 1980s and 90s, it was widely used in facial augmentations and began to be used for breast enlargements. However, it fell into disrepute because of the risk of the fat tissue calcifying and forming hard lumps when transferred in large amounts. This not only affected how the breasts looked and felt, but was also a problem for mammograms, as the lumps were often mistaken for breast cancer and led to unnecessary biopsies.
Since then, fat-grafting techniques have been refined, as have mammogram interpretation techniques. In 2010 the Royal Australasian College of Surgeons published a review of evidence that stated fat grafting was as safe as other forms of breast augmentation, though more high-quality studies were needed. Last year a US study found that after six months, the majority of fat-grafting patients had no masses or abnormalities in their breasts.
Benefits and risks
Apart from the appeal of using one's own tissue, Sellars says the main benefits of fat grafting are that if successful, the transplant will feel more natural and last longer than an implant. "A silicone implant will wear out. But it's possible to have this kind of enlargement for life," he says.
Tavakoli believes the time and money needed for a successful graft are not worth it. While an implant is one surgery that lasts one to one and a half hours, a fat-grafting surgery takes twice that time. Multiple surgeries are sometimes required, especially if enlarging the breasts by more than one cup size, because about 30 per cent of the fat transferred will be reabsorbed, and there is a limit to how much fat can be safely grafted in a single surgery.
The procedure is also not suitable for very thin, flat-chested women, as they won't have enough body fat, and it does not have the 50 years of refinement silicone transplants have.
"You're going to get a more predictable result with a silicone implant," Sellars says, "but there's now an alternative for people who don't want implants."
In case you missed it: PIP implants
Poly Implant Prothèse (PIP) is a French brand that switched from using medical-grade silicone to industrial-grade, which has a greater chance of rupturing.
About 13,000 PIPs were imported into Australia between 1998 and 2010.
At least 171 PIP implants in Australia have ruptured.
The French Government has recommended removal of PIP implants.
Source: bodyandSoul