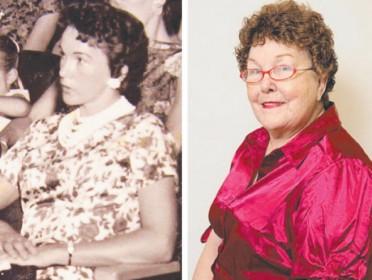 "Truth be told I wasn't very excited about the idea of having the implants," says Timmie Jean Lindsey, 80, who 50 years ago was talked into becoming a guinea pig for the first silicone breast implants.
"I was more concerned about my ears sticking out than my breasts."
In the end she struck a deal with surgeons Frank Gerow and Thomas Cronin: she would have the implants, but only if they pinned her ears back. They agreed.
The enlargement surgery in March 1962 changed Lindsey from a B to a C cup.
"When I went out in public I saw how much more I was noticed by people," she says. "Mostly it was men when I was walking down the street."
Lindsey kept her implants a secret for 30 years, even from her second husband.
"I still have the implants, and they're doing all right. Over the years they've kind of started sagging like normal breasts do; they don't sit up perky like they used to and are harder."
Her daughter Elizabeth had implants 30 years ago, then five years ago granddaughter Jessica also had some put in. They are just two of the millions of women Lindsey's operation paved the way for. However, she says she would think twice about having implants today.
She says: "I don't regret having mine done, but implants are different now and I don't think many are as long-lasting as what I've had. There just seem to be so many problems."
Source: bodyandSoul