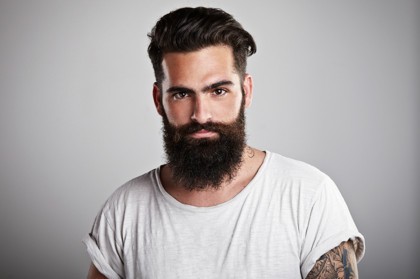 Flamboyant facial hair on men is everywhere at the moment, and scientists have come up with a theory as to why.
It's all about looking aggressive to other men, and more attractive to women, and it's a ploy used by many other primates. A group of University of Western Australia researchers looked at 154 species of primates and found that the bigger the society of primates, the more competition there is between males to find a mate, and as a result males develop "badges" that give them the edge. Other types of primate badges include elongated noses on proboscis monkeys and cheek flanges on orang-utans.
"In large groups where individuals are surrounded by strangers, we need a quick reliable tool to evaluate someone's strength and quality, and that's where these elaborate ornaments come in," Dr Cyril Grueter from the University of WA says. In the case of humans, we can buy as well as grow dominance, with Grueter pointing out that body decoration, jewellery and prestige items all have the same flamboyant effect.
Source: bodyandSoul