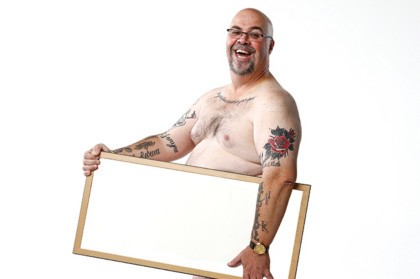 When Kim Kardashian set out to "break the internet" by baring her bottom on the cover of a magazine last year, she could have taken her styling cues from 55-year-old Melbourne man Craig Coombes, for whom posing in his birthday suit is a weekly event.
Coombsey, as he's known to mates, is the face (and backside) of the Naked Tuesday movement. When faced with terminal cancer, Americans might set up a foundation, while Brits might respond with some characteristic stiff-upper-lip resilience. Craig, however, took the wonderfully Aussie approach of simply nuding it up in the face of tragedy.
He started the Naked Tuesday website soon after he was diagnosed with terminal cancer of the throat in 2012. He was given 15 months to live, making his "use-by date", as he calls it, December 14, 2013.
Every Tuesday, the former ambulance officer, teacher and football administrator posts a picture of himself starkers, with highlights including a shot of him and three mates recreating The Beatles' Abbey Road album cover, cuddling up to comedian Adam Hills in an Anne Geddes-style shoot and spoofing the Breaking Bad poster with his own version, aptly titled Breaking Bald. The Naked Tuesday's Facebook page now gets an average of 25,000 views per week.
Dealing with cancer
"When it started, it was just me having a bit of fun during a tough emotional and physical time," Craig says. "I basically wanted to say, 'In your face, cancer – you're not going to defeat me, rob me of my spirit and take away the fun to be had in what time I've got left'."
Over time, however, it became clear that Naked Tuesday was having an impact that stretched way beyond Craig and his mates. "It began as a trickle but soon other people dealing with cancer began sending in their own naked photos," he says.
For some, these statements of fleshy defiance have been life-saving. "On three occasions, we've had people with cancer write to us to say Naked Tuesday has helped prevent them committing suicide," Craig says. "One even sent over the torn-up note they were going to leave behind.
"What started out as just a laugh for me and my mates became something more for a lot of people," he says.
Craig's 22-year-old daughter, Rebecca, has turned his illness into a motivation to live a healthier life. In the past two years, she's lost a staggering 49kg and is now studying to become a personal trainer.
Meanwhile, funds raised from sales of Naked Tuesday stickers and T-shirts have gone to The Orange Pigeon, an organisation that grants the wishes of Australian adults battling serious illness.
Recreating The Beatles' Abbey Rd album cover with friends
A laugh a day
This year, 128,000 Australians are expected to be diagnosed with cancer, according to Cancer Council Australia, and each person will have to find their own way of coping.
For Craig, watching live comedy was an effective remedy. He became a regular at his local comedy club, The Comic's Lounge in North Melbourne, and firmly believes it has been an invaluable part of his therapy.
"Everyone's different but I have no doubt that, for me, laughter is the best medicine. And I've had chemo," he says with a laugh.
Even just a cursory glance at the Naked Tuesday website reveals (literally) Craig's wicked sense of humour, and it was inevitable that he'd one day end up behind the microphone. He recently performed at the Melbourne International Comedy Festival, and went on a mini tour of Sydney and Newcastle, where he grew up, all while gleefully breaking down the taboos that come with talking about cancer.
On May 28, he plans to celebrate "being 500 days past my use-by date" with a celeb-studded comedy gala in Melbourne. It's hoped that the proceeds will allow Craig's wife, Jayne, to leave her job at the Salvation Army's employment service, so, as Craig says, "we can spend what time will be left together creating memories while I'm still able".
A sense of bitterness and "why me?" anger at his diagnosis would be entirely understandable, yet there's not a trace of self-pity, bitterness or anger in Craig. Instead there's an unshakeable positivity and a commitment to laugh loud and often, drop his dacks like clockwork on a Tuesday and live by his own motto to "make the rest of your life the best of your life".
For more details about Naked Tuesday, visit nakedtuesday.me. For information or to donate to The Orange Pigeon, visitorangepigeon.org.au
An Anne Geddes style shoot with comedian Adam Hills
Craig's top 5 tips for dealing with cancer
1. Have the surgery and treatment that doctors tell you to. Respect their expertise and trust them to do what they can for you.
2. The support of family and friends is critical. Never be afraid to show them how you're really feeling.
3. Have a fierce determination to live, because tomorrow could be that day they find the cure. Living with hope gets you up when things are looking down.
4. Treat each day as precious and create memories with family and friends – make a bucket list and aim to tick things off.
5. Laugh! Find a way to smile and laugh every day, because it's true that laughter is the best medicine.
Source: bodyandSoul