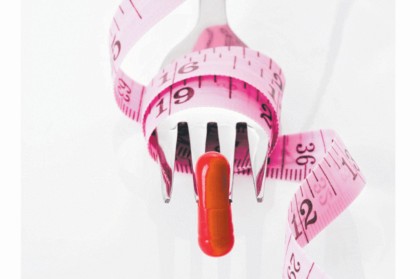 It's used in the manufacture of pesticides, chemical dyes and wood preservatives. But on numerous websites in Australia, it's promoted as a fat-burner and as an easy way to lose weight without dieting.
The chemical, dinitrophenol, or DNP, is being used in diet pills that promise to speed up the body's metabolism and strip fat. But the rapid weight loss can come at a high cost.
Most recently, DNP slimming pills were linked to the death of 23-year-old British medical student Sarah Houston, who died after taking pills containing DNP that she had ordered on the internet. She was also taking prescribed antidepressants and medical experts believe the combination of drugs proved to be a fatal mix.
The night before she died, Houston told her flatmates that she felt hot, her eyes yellowed and her breathing became laboured. The following day she was found slumped in her room.
Death by misadventure
Tests showed DNP in Houston's blood and the coroner recorded a verdict of death by misadventure. The coroner also urged the British government to take action to control access to DNP.
Her parents, Geoff and Gina Houston, say they hope their daughter's death will be a warning to anyone tempted to buy DNP, or to see it as a quick fix for weight loss. Neither had heard of DNP.
"At the suggestion of one of the police officers, I went on Google and looked up DNP," Gina says. "What I came up with was a list of horrible symptoms and side effects, and they were precisely the side effects that killed Sarah.
"It seems incomprehensible to us that such a toxic substance can be available in tablet form to be sold in the UK for human consumption across the internet."
"Extremely dangerous to human health"
A study on DNP published last year in the Journal of Medical Toxicity linked the chemical to 62 deaths around the world.
The Food Standards Agency in the UK has issued a warning about the risks of DNP, describing the drug as "extremely dangerous to human health".
DNP works by dramatically increasing the body's metabolic rate to burn energy and fat but this can lead to symptoms including nausea, vomiting, dizziness, rapid or heavy breathing, headaches, dehydration and an irregular heartbeat. In the worst cases, DNP can be fatal.
The internet trade
In Australia, DNP is listed as a prescription-only product for therapeutic use, but Dr Claire O'Reilly, acting president of the Pharmaceutical Society of Australia, says there's no commercial product registered and available. Yet it's still possible to buy DNP-based weight loss pills here via the internet.
"You can buy products from anywhere in the world and they can slip into this country," Dr OíReilly says. "This is the big issue. You can have regulations in place but when people purchase products like this on the internet, it's very, very messy. Products could be unapproved for use and you don't know exactly what ingredients are in the weight loss product you're getting."
Australian approval
People may believe that because they can order weight loss products on the internet and have them sent to Australia, then those products must be safe and approved. This is clearly not true in the case of DNP.
Medicines used in Australia must have Therapeutic Goods Administration (TGA) approval. The TGA is Australia's regulatory agency for medical drugs and devices and it issues an "AUST R" or "AUST L" number for approved medicines. The number is printed on the outer pack of medicines. Most complementary medicines have an AUST L listing proving that they're safe. Prescription medication and over-the-counter medicines most often have an AUST R listing, which indicates that products are safe and there's evidence of the product's efficacy.
Many of the weight loss products sold on the internet and shipped from overseas don't meet any of the strict TGA requirements.
Not worth the risk
Dr O'Reilly says the fact that Houston was taking antidepressants and DNP pills highlights another safety issue- the potential for drugs to interact and trigger serious side effects.
"Check with your pharmacist or GP before you take any supplements or over-the-counter medicines," she warns.
Dr O'Reilly says tougher controls are needed to control DNP and other unapproved weight loss products coming into Australia.
"Anyone who buys these kinds of weight loss products online when little is known about them is taking a great risk," she adds.
Source: bodyandSoul