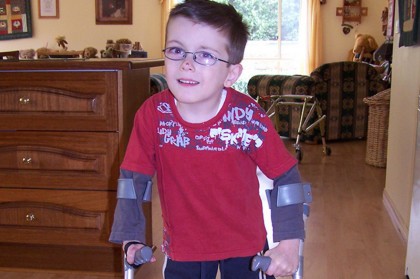 At first sight, Bailey seems like a typical 10-year-old boy. He's energetic and lively; his love of basketball regularly sees him shooting hoops in the street with the neighbourhood kids after school.
But first impressions can be deceiving. Bailey has cerebral palsy, a disorder that affects muscle and bone development and can permanently confine those who have it to a wheelchair or crutches. The fact that he can walk, run and play sport like any other boy is a testament to the advances in research that have taken place in Australia over the past decade.
Bailey's story
Bailey was born eight weeks premature in 2002. From the beginning, there were signs that he had a physical disability, but its severity wasn't known. When he was diagnosed with cerebral palsy at six months old, his family was thrown into a "black hole of confusion", recalls his mother, Michelle Jankovic.
Health professionals warned that Bailey would likely need to use a walker or crutches for his entire life, as well as require numerous operations and intensive therapy. "You just want to jump ahead a decade to see if everything is going to turn out OK," Jankovic says.
Bailey was referred to the Hugh Williamson Gait Analysis Laboratory at The Royal Children's Hospital in Melbourne. Thanks to support from the Murdoch Childrens Research Institute, the lab has made significant advances in treating cerebral palsy through surgery. By closely tracking a child's gait and movement with high-tech equipment, they're not only figuring out what operations would have the best results but are also better able to predict what kind of recovery and rehabilitation the child will need.
"Before we had a gait lab, surgeons would look at doing specific surgeries on children with cerebral palsy to help them walk better, but they didn't really know which operations would work best," the lab's senior research physiotherapist Pam Thomason says. "This research has allowed surgeons to be more specific and tailor surgeries to the individual."
Bailey with his sister, Jasmine
Treatment and therapy
In consultation with the lab, Bailey had 16 operations at The Royal Children's Hospital, at an average of two a year. These included significant bone surgery and the insertion of hip plates. His last operation took place when he was nine and involved removing hip plates and creating tendon transfers behind his knees.
Bailey also underwent intensive therapies designed to strengthen his core and relax his leg muscles. These involved wearing leg splints and orthotics, having Botox injected into his legs and taking part in a range of physical activities. All this, and a lot of personal determination, means that Bailey can now walk and move without assistance. "Bailey would push through the pain," Jankovic says. "He's a strong-willed little man."
The amazing results could never have been predicted by doctors when Bailey was born, but his success provides new insight into treatment options for what was once a life sentence. Not one of his operations has been a waste, Jankovic says. "They've all had a positive outcome. Now he can play basketball, now he can run."
Jankovic says a lack of knowledge about the condition led to uncertainty about Bailey's future, referring to it as a 'black hole of confusion'… This hurdle provided motivation for Jankovic to establish the service referral website – DisabilityCare Consultancy and the online service directory – Helping hand is here, she says.
Source: bodyandSoul