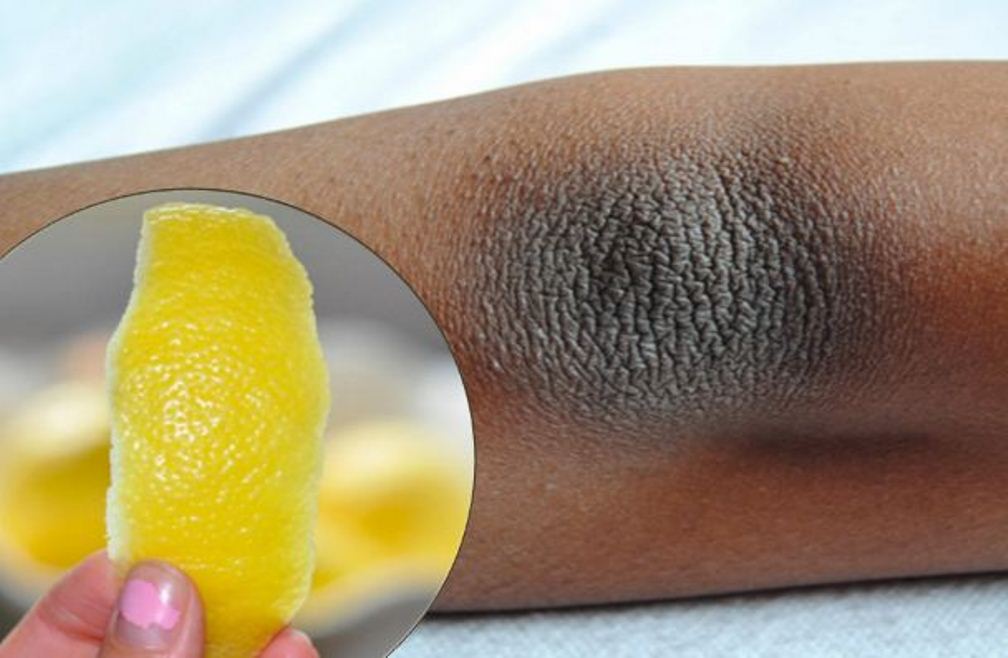 If you have dark elbows and knees and want to lighten them, continue to read this article. It will take you only a week. If you have this problem, then you know how embarrassing it can be, especially when you want to wear a short dress or a sleeveless top.
We are going to offer you a few helpful natural beauty tips to get rid of this problem. Also, you will improve the appearance and get a lighter skin color only by using some ingredients you already have in your kitchen. Moreover, this skin care won't take you too much time, but the result comes fast.
Lemon
The citric acid in lemons brightens and improves skin color. The antioxidant and vitamin C firms skin and improves shine.
How to lighten dark elbows and knees with lemon juice:
Lemon and baking soda – cut a lemon into 2 halves. Then, sprinkle a tablespoon of baking soda over the lemon slice and rub in on your dark elbows and knees for a minute. Let it sit for 15 minutes and then rinse with warm water. Moisturize well your skin with olive oil or coconut oil. Do this method until you get the desired effect.
Lemon peels – grind dried lemon peels into a fine powder. Add 1 tablespoon of multani mitti and a teaspoon of honey to the lemon peel powder. Apply the mixture and let it sit for 10 minutes. Slowly remove the pack by scrubbing in a circular motion. Rinse with cool water. This will brighten your elbows and knees instantly. Also, it will remove dead skin cells and impurities.
Lemon juice and glycerin – prepare a mixture of equal parts of lemon juice and glycerin to moisturize dark elbows and knees. Do this at night before you go to bed. Repeat it every day for a week to see improvement in the skin color.
Sugar
Sugar can serve as an exfoliator and moisturizer for your skin. It removes dead skin cells, rough skin cells and makes your skin smooth and clean. It is such a simple beauty trick, isn't it?
Here are 2 tips for lightening dark elbows and knees with sugar:
Sugar, rice powder and honey – One of the most important reasons for black elbows and knees is dead skin cells accumulation. To lighten your skin, it needs a deep exfoliation once in 3 days. Prepare an exfoliating paste by mixing 2 teaspoons of sugar with a teaspoon of rice powder and 1 tablespoon of honey. Apply a small amount in the palm and scrub in circular motion by applying a little pressure. Do it 5 minutes before taking a bath.
Sugar and olive oil – Apply a small amount of a sugar and olive oil mixture on the loofah and scrub for 3-5 minutes on the darkened skin area. Do this procedure every day until your elbows and knees get light.
Besan or Gram Flour
Besan is a natural ingredient that can cleanse and exfoliate skin. It makes skin smooth and lighter. This is how you can use it:
Besan and tomato juice – Prepare a paste of 3 teaspoons of besan powder and 2 tablespoons of tomato juice. Place it in the fridge for 15 minutes. Apply a thick layer of the mixture and then remove the pack gently by rubbing. Then, wash with cool water. This removes rough and dead skin cells, and the bleaching characteristics of tomato eliminate black knees and elbows.
Besan and milk – Combine equal parts of besan and cool milk. Apply the mixture to your knees and elbows and wash off after 20 minutes. The mixture will lighten your dark skin areas.
Cucumber
Cucumber's vitamin A and C makes skin beautiful, radiant and protects it from UV rays. It is a whitening, refreshing and soothing agent.
Cucumber and lemon juice – Combine 2 tablespoons of cucumber juice with 1 tablespoon of lemon juice. Apply the mixture on the affected areas and rinse after 20 minutes. This is one of the most helpful whitening remedies that eliminate dark elbows and knees in a very short period.
Cucumber, tomato juice, green gram flour – Mix equal amounts of cucumber slices and tomato slices and then blend well. Mix 1-2 tablespoons of gram flour and apply a thick layer to the dark areas. When it dries completely, wash off.
Cucumber and sandalwood powder – Mix 2 tablespoons of cucumber juice and 1 tablespoon of sandalwood powder. Apply the mixture on dark areas and wash off when it dries. Do this once daily.
Aloe Vera
Chilled aloe vera gel and rose water – Mix 2 tablespoons of aloe vera gel and a few drops of rose water. Store it in the freezer for 15 minutes. Massage the paste on your dark knees and elbows. You don't need to rinse it off.
Source: My Ilife Style