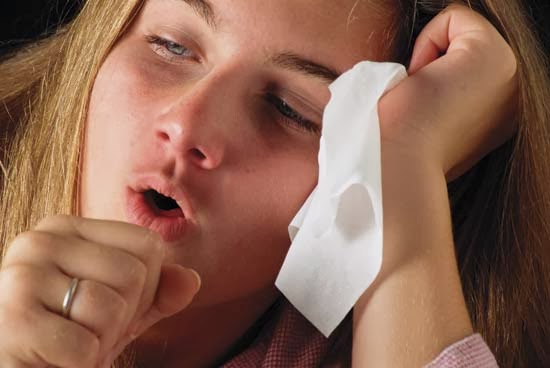 The cough is a very common disease during cold seasons. It is the congestion that blocked the lungs, The sputum thus created is hard to remove and this makes one cough. One can simply solve the problems of cough by checking at the shelf of the kitchen. Here are some of the best home remedies for cough.
Simple Home Remedies For Cough
1. Salt Water
The common table salt and ensure to reduce cough without any problem. The mixture of salt and water is a great combination.
Take a spoon of table salt and mix it with warm water which gives a good salty taste.
Gargle with this water before going to bed and as soon as one wakes up. This will help to reduce cough sooner.
2. Onion
Onion is one of the most commonly used vegetable. Using it will also help to reduce cough and find relief from blocks.
Mash onion and add sugar to it.
The online will leave watery syrup which is mixed with sugar. Having this twice or thrice will reduce cough with immediate effect.
3. Turmeric Powder
Having turmeric powder is to bring some new color to food. But even after being a coloring agent, it is having the capacity to be an antibiotic.
Having a mixture of turmeric and hot milk will help reduce coughing.
It also will bring the sputum out and gives relief for long term.
4. Black Pepper
Used regularly for adding taste to food. This is also found to be of medicinal use where its spicy flavor will reduce congestion.
Make powder of black pepper and add to a glass of boiling water.
Boil the water till it reduces to half, filter and drink the water with a spoon of honey. This gives proper result.
5. Ginger
Ginger is found to be having antibiotic quality which is why using this will help to reduce the irritation and soothe the cough. The medicinal property of ginger makes it suppress the respiratory ailments.
Chewing ginger with the intake of the juice will help to get immediate relief.
Ginger and pepper honey, combined together with a glass of water. Boiling and cooling it will make it leave its syrup to water which one can drink easily with a spoon of honey to get relief.
6. Lemon Tea
Lemon tea is found to be one of the effective ways to get rid of a cough. Taking the tea extract with ginger will also help to get results faster. Lemon helps as they act as antidote to cough.
Make the common tea and add ginger to it so that ginger can give out its syrup.
The tea has to be filtered and lemon syrup has to be added to it.
7. Steam Inhalation
When it is about stream, one might wonder how the steam is going to work. It helps to clear the blockage and also ill helps breathing. This is good as one need no other medicine to clear all the blockages which makes them cough to get it out.
Heat water to boiling point and take the vapor by covering with a towel or a blanket.
The hot vapor or steam will pass it the respiratory track will provide better relief.
8. Grape
Usually grapes or the dry grapes are found to be healing people who are coughing. The grape juice contains antioxidants which will reduce infection and help recover easily.
Grapes acts as expectorant and clears the blockage from the lungs.
Graphs have phytochemical contents which have to capacity to control even the Asthma cough.
9. Garlic
Garlic is found to be an effective antimicrobial and expectorant. This helps people to come out of cough and ease with other cough related problems.
Crush peeled garlic and fry it in ghee till it turns golden brown in color.
Either chew this mixture or add it to any of the food that is taken. This helps to reduce the irritation.
10. Jaggery
Jaggery is found to be reduced sputum and helps to breathe easy. There are many medications which involve jaggery in it.
Boil pepper corns with water; add cumin and jaggery to it. Drink the mixture once the water comes to room temperature.
Cut a piece of onion and stuff it with jaggery. Eating it by chewing slowly and taking the juice will help to get relief.
11. Cinnamon
Bring one of the spices; cinnamon has also had good effect on cough. Using it will help to reduce congestion and also will help one stop coughing.
Make the power of cinnamon
Mix this powder with lemon juice and honey. Having it will help to reduce the itch in the throat and will also reduce infection
12. Tulsi Syrup
Tulsi is a plant that is grown outside the home. The leaf is having antimicrobial property which thus helps to reduce coughing.
Rub the tulsi leaves in palm and collect the syrup.
To this add the ginger juice and make a teaspoon of it by adding honey. This has to be taken twice or thrice a day to get relief from cough.
13. Coconut Milk
Coconut milk is found to be good for treating many infections. This is also found to be having a good effect in case of cough.
Take 10 drops if coconut milk and mix it with powdered poppy seeds.
Add honey to this mixture and have it before going to bed. This helps to stay calm.
14. Clove Oil
Both clove and clove oil is found to be very effective in reducing the irritation and cleaning the throat tom sputum.
Chewing a clove directing and taking the juice will help reduce irritation.
Taking a mixture of clove oil and almond oil with honey will also help to reduce sputum secretion.
15. Betel Leaves
Betel leaves are having antibacterial capacity which helps to reduce the itch, irritation, the collection of sputum and other things related to cough.
Take the juice from betel leaves and add a pinch of salt to it. This juice has to be taken twice daily to get the lungs cleared form sputum.
Chew betel leaves with tulsi leaves, clove and menthol to get immediate relief from cough. The juice is loaded with many antibiotic things which help to reduce infection and helps soothe the irritation.
Want to stop coughing and start living? Want a simple and easy remedy? Why not try the above mentioned methods which help to reduce infection and stay happy.
Source: GoHealthTips