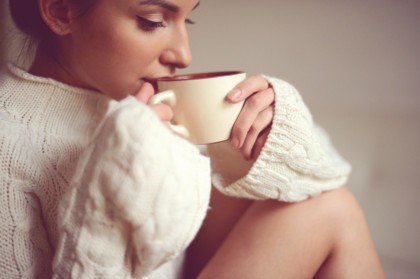 If you're one of the 17,070 men or women diagnosed with bowel cancer in Australia this year, this is yet another very good reason to keep your relationship with coffee strong.
A study released this week from the Journal of Clinical Oncology has reported that regularly consuming caffeinated coffee (that's four or more cups to be exact) can help prevent colon cancer recurrence, as well as reducing the likelihood of dying from the cancer.
This is pretty big news, considering it is the first of its kind to find such a link between bowel cancer and our favourite morning cup.
The study included nearly 1,000 patients, all of which were treated with surgery and chemotherapy for stage 3 colon cancer. They were all asked to fill out a dietary questionnaire in the beginning of their diagnosis, during chemotherapy and about a year after, which looked at their coffee-drinking habits day-to-day.
The patients found to be drinking four or more cups of coffee per day (that's about 460milligrams of caffeine) were 42 per cent less likely to have their cancer return than the non-coffee consumers, and 33 per cent less likely to die from the cancer.
"We found that coffee drinkers had a lower risk of the cancer coming back and a significantly greater survival and chance of a cure," director of the Gastrointestinal Cancer Centre at Dana-Farber and author of the study, Charles Fuchs said.
While these results may appear positive, Fuchs believes further study is needed in order to find out exactly why caffeine has this effect and remains hesitant in making recommendations to patients until the results are confirmed. "If you are a coffee drinker and are being treated for colon cancer, don't stop," he said. "But if you're not a coffee drinker and wondering whether to start, you should first discuss it with your physician."
Fuch believes that one reason is that caffeine consumption increases the body's sensitivity to insulin so less of it is needed, which in turn may help reduce inflammation —  a risk factor for diabetes and cancer.
So while we still might need further results to confirm this exciting new claim, this is still a breakthrough in medical research.
A daily hot cuppa is also said to reduce the risk of heart disease, prostate cancer, boost energy levels and reduce stress. So for now, it's okay in our book.
Source: bodyandSoul