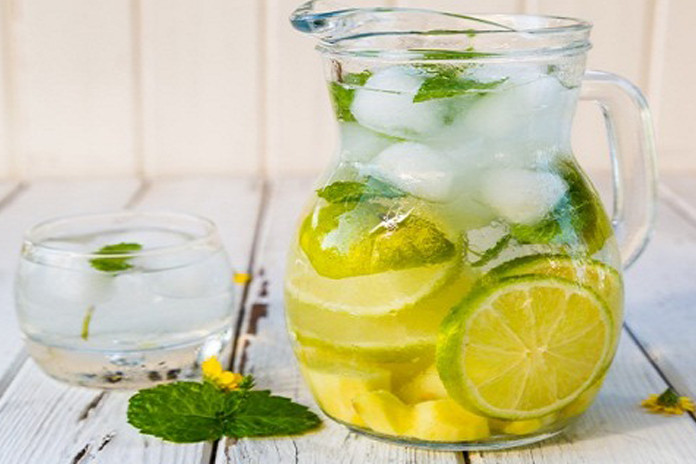 Toxins get into the body through various media like air, water, food and others. Inhalation of polluted air, consecutive consumption of processed and junk food and a sedentary lifestyle leads to the accumulation of a myriad number of toxins in our body. These tend to get collected in targeted places in the body like the colon.
This not only seriously leads to the condition of obesity, but also can cause various other related ailments like arthritis, bloating, depression, fatigue, etc.
The following tasty recipes of detox water are amazingly rich in not only lessening the belly fat, but as well in the processes of controlling craving and cleansing.
 Slender Tummy Water Detox Recipe:
Things You Need:
Mint Leaves- 10-12
Fresh Cucumber Slices- 6-7
Sliced Lemon- ½
Sliced Orange- ¼
Fresh Cold Water- 700 ml
Things You Should Do:
Get all the above-specified ingredients into the ice cold water.
Let it stay the same overnight.
The next day, you can have this detox water slurping in little by little, for the whole day.
Benefits:
The mint leaves can ease the process of digestion and also lessen stomach cramps. The orange juice is capable of bringing down your levels of cholesterol and stimulating the immune system. Lemon, being rich with citric acid, would actively aid in cleaning the digestive system. The slices of cucumber are of an anti-inflammatory nature which can prevent water retention and thus contribute to giving a flat belly.
Detox water that will help you control cravings
Things You Need:
Mint Leaves- 10
Sliced Strawberry- 1
Sliced Lemon- ½
Cinnamon- ¼ tsp
Sliced Apple- ¼
Chilled Water- 700 ml
Things You Should Do:
Bring all the above ingredients together into a jar filled with chilled water.
Leave it overnight to let all the flavours blend to form a fragrant solution.
The next day, sip on as much as the solution possible.
Benefits:
The mint leaves, here again, elevate the odor and taste of the water apart from  promoting better digestion.  Strawberries can fight against aging and cinnamon is responsible to diminish your craving and also in regulating your blood sugar levels. Apple can take up the task of treating your wounds faster and also of strengthening your bones.
Detox water recipe for daily cleansing
Things You Need:
Sliced Cucumber- ½
Sliced Watermelon- ¼
Sliced Lemon-1
Mint Leaves- 10
Deeply Cold Water- 1 liter
Things You Should Do:
Add all the slices of watermelon, cucumber and lemon to the water along with the mint leaves.
Now, let them stay together overnight to allow the flavours to diffuse into the water.
The day next, you can just happily get away with time by taking  frequent sips of this drink.
Benefits:
Watermelon Slices comprise citrulline, which is an organic compound and can effectively help in flushing out all the toxins of the body. Lemon is rich with citric acid and would aid out in cleansing the digestive system. Mint leaves are again known to soothe the stomach cramps and improve digestion. Cucumber eventually has got the potent to avoid the retention of water in the body, thus ensuring a flat tummy.
Other Tips to Acquire a Contracted Tummy:
Apart from the above-mentioned Water Detox Drinks, the following tips can magnify the results:
Accompany your drinking schedules by chalking out a certain plan to perform mild forms of exercises.
In between two refills of the detox drink, try to add up some fresh fruits to neutralize the effects produced by your detox drinks.
Get good sleep to enhance your results to get a flat tummy.
Avoid the intake of junk food in this duration of detox water consumption.
Hence, through following the shown easy and crisp tips in addition to drinking the detox drinks, you can well assure yourself of a perfectly toned and a slenderized abdomen shape worth boasting about. So do try these out and land yourself upon incredible consequences. Do not forget to share your experiences in this regard.
Source: LetsGoHealthy