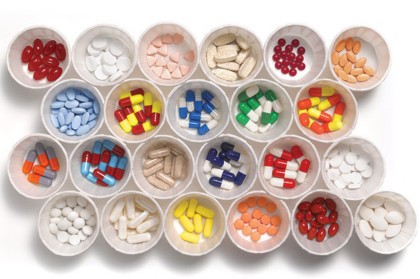 Even though many prescription medicines in Australia are covered by the Pharmaceutical Benefits Scheme (PBS), the cost can add up – especially if you're taking more than one medicine over a long period.
"Every day, people come into our pharmacies with four or five items on the prescription, but they say they only want to take three today and ask which one they can do without," Paul Sinclair, from The Pharmacy Guild of Australia, says. "For people with chronic diseases and people with young children who may not be covered by concession cards, it becomes an expensive issue."
According to consumer group Choice, 63 per cent of Australians are worried about the cost of medicines. "We know that medicine prices are one of the top cost-of-living concerns,"
Tom Godfrey, from Choice, says. "Anything you can do to reduce the cost of medication is going to take the pressure off your household budget."
1. Opt for generic brands
When a pharmacist asks if you'd like the generic version of a medicine, they're not trying to sell you an inferior "home brand" equivalent product to boost store profits. In fact, generic drugs are exactly the same as branded ones – and typically a lot cheaper.
Newly developed drugs are protected by a patent – usually for 20 to 25 years – that prohibits other companies from selling the medicine so the manufacturer can recoup its investment costs. Once the patent expires, however, other companies can apply for government approval to sell competing generic drugs. And because they don't need to fork out on research to develop the drug, the price usually drops.
"For a generic medicine to be dispensed in place of the original brand, it has to have undergone thorough testing and has to be approved by the regulator," Sarah Spagnardi, a pharmacist and manager of Medicines Line from NPS MedicineWise, says.
"It's not possible for pharmacists to decide to give you another brand – it's actually very tightly regulated so there's clinical evidence that the medicine has the same active ingredient included and will do the same job as the original brand."
Plus, bear in mind that once a generic version of a medication is available, the government is unlikely to subsidise the original version through the PBS if it remains more expensive than its new generic competitor.
2. Shop around
Buying medicines online from overseas is a no-no, with the Therapeutic Goods Administration warning that they may not meet the same standards as those bought in Australia. However, purchasing medicines online from local companies can be a safe way to save a few dollars.
"Australian-based online pharmacies are worth considering," Godfrey says. "We know that online retail is generally more cost-effective, and local online retail when it comes to pharmacies is also a good option. If you're buying Australian products online, look for the brands your doctor has recommended."
Bargains can also be found in bricks and mortar pharmacies. "If you use medication regularly, it's worth shopping around because the larger chains often buy in bulk, which means they can deliver some discounts," Godfrey says.
3. Ask for a medicine review
If you take several medicines concurrently, a medicine review may reveal you no longer need all of them or you're taking more than you need.
There are myriad benefits. Fora start you can save money on medications that are no longer necessary. At the same time, you can ensure the dosage reflects current needs. A GP can review your medicines or can arrange for a pharmacist to do so.
"It's like a health check of medicines to make sure people are taking medicines that are doing the job they're intended to do, and they're not continuing to take medicines they may not require any longer," Spagnardi says.
Dr Frank Jones, president of the Royal Australian College of General Practitioners, says a good example lies in the use of proton pump inhibitors (PPI), which are taken to treat stomach acid and reflux.
"A lot of people are on anti-indigestion tablets called PPIs but often they don't really need them," he says, adding that unnecessary long-term use can lead to adverse effects.
4.Use the safety net
The PBS Safety Net entitles you to free or cheaper medicines if you spend more than $1453 – or $366 for concession-card holders – on PBS medicines in a calendar year. The same thresholds apply to singles, couples and families.
About 80 per cent of the cost of listed medicines are covered by the PBS. Once you reach the safety net, the price drops to the concession rate –  and for concession-card holders, PBS medicines become free – for the rest of the year. "Once people have reached a threshold of safety net expenditure they qualify for cheaper medicine," Sinclair says. "It's important to maintain your safety net records, which is usually done by the local pharmacy."
If you use more than one pharmacy, ask for a prescription record form and have the pharmacist record every purchase.
5. Commit to your GP and pharmacist
Building a relationship with one GP and one pharmacist will streamline your medicine needs and reduce costs. "Having a conversation with your doctor about the appropriate dosage of each and every medication is very important, and this is much easier if you have a relationship with your GP," Jones says. "I also endorse having a regular pharmacist because they work with the GP."
Sinclair agrees: "We encourage people to develop a relationship with the local community pharmacy. If you're dealing with your local pharmacy and have an established relationship, as soon as you're eligible for access to things like the safety net it's a matter of course, rather than chasing up 15 different pharmacies to get your safety net together."
Could the medicine industry be about to change?
At the time of print, the Australian Government was on the brink of deciding whether to sign a new trade deal with the US, called the Trans-Pacific Partnership, which would span countries bordering the Asia-Pacific. While we won't know the contents of the agreement until it's signed, one of the rumoured inclusions is an extension to the length of medicine patents, which would push up prices and might impact the long-term sustainability of the PBS.
Source: bodyandSoul