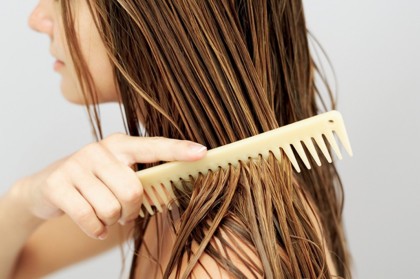 The damaged hair checklist:
Do any of these seem familiar?
Split ends
Dry to touch
Easily knots
Hair is fragile and dry
Difficult to comb
Diagnosis: Hair rehab, stat!
Know what's causing the damage (so you can manage it)
Clive Allwright, hair director for KMS California Australia says there are a few major culprits of hair damage. Some you may already be familiar with such as heat tools like a straightener or curling tong, colouring and highlighting hair and elements such as salt water and chlorine. Other no-nos include brushing your hair with a brush when wet (who knew?) and using hot tools on wet hair (if you've ever done this we've got two words: burnt hair). But Allwright also adds the incorrect use of products. "People will go to the supermarket and buy protein-based conditioning treatments which only make the hair worse!"
It's not just external factors that can affect hair health. According to Peita Handel from Fusion Health, "areas to consider that may affect hair health include how you're managing symptoms of stress, whether you're meeting nutritional requirements and having a healthy hormone balance."
Repairing damaged hair
First stop: the hairdresser. Allwright says, "Visit a reputable salon and be advised by a professional who will advise how the hair needs to be treated and whether the damaged hair needs to be cut or not." After that be really, really kind to your hair. Maintain regular trims every six weeks and use quality treatment products to add condition and shine. Allwright advises to apply nourishing products that contain natural oils for protection.
Watch out for your stress levels! Handel says as stress can affect the state of your hair it's important to minimise it as much as possible. "It's important for hair health (not to mention whole body health)." Nutritionist Zoe Bingley-Pullin says, "The saying 'you are what you eat' really rings true when it comes to the health of your hair." So make sure your diet is up to scratch. Boost your intake of foods such as beef, chicken, eggs and sardines which all provide the necessary nutrients needed for healthy hair.
Hiding the damage
While your hair's in rehab, detox from heat tools and protect it as much as possible. "A great trick for summer is to slick hair back in a bun or ponytail and protect it with a nourishing and conditioning product…over time the hair will repair and it's a sexy look as well!" Allwright says. "Another trick is try loose waves that don't require too much styling and can disguise damaged split ends."
Avoiding future damage
Firstly, leave colouring to the professionals, they'll be able to better control the amount and type of chemical processing used to treat your hair.
Allwright also says to always use a thermal protector product when styling to protect from the heat of dryers, curling irons or flat irons. You should also use moisturising products to reduce breakage and use a moisturising treatment on the hair at least once a week.
Also remember what's happening in your body affects what's going on outside. Handel says, "According to Chinese herbal medicine principles, poor hair condition (including brittleness and dryness) is caused by a deficiency of Liver Blood or Kidney energy (Jing). The herbal medicines in Fusion Health Hair Tonic nourish the Liver Blood and replenish Kidney Jing. This then improves blood circulation to the scalp which promotes healthy hair condition."
Tick all the boxes of these preventative measures and you should have a pretty impressive mane!
Source: bodyandSoul