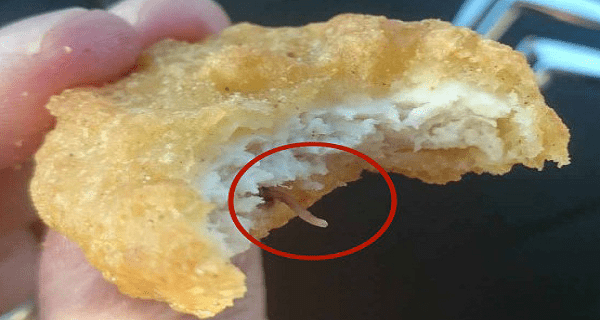 The shocking news of food scandals at McDonald's has now become a common thing. Recently the controversy happened when a woman orders a chicken nuggets and saw something horrifying after her first bite at McDonald's restaurant.
Nikki Sanders went for a Happy Meal at McDonald's restaurant and got chicken McNugget as a part of the meal. It was already smelling strange and she offered it to her 4-year-old daughter Emily. Not much hungry said Emily, so Nikki decides to have chicken McNugget for her.
As per the interview of Nikki Sanders at Tamworth Harold, She took a bite of chicken McNugget which tasted very odd. A suddenly she saw a stingy pink in color hanging out from the chicken McNugget.
She kept it down in the bag and couldn't believe what just happened. She felt sick by seeing a worm like thing hanging out from the chicken McNugget.
As per the report of PM MEDIA a couple Neil and Nikki Sanders who ordered Happy Meal at McDonald's saw worm in the chicken McNugget hanging down. The canteen worker as supported the fact that it was a worm hanging out from chicken McNugget. Nikki Sanders felt sick after looking at the horrifying worm coming out of the chicken McNugget.
Nikki Sanders mentioned during her talk with Mirror that she was thankful that her 4-year-old daughter Emily decided that she is not much hungry and don't want to eat chicken McNugget.
She also said that processed meat is off the table for her and she will go for healthier food in near future.
Neil Sander clarifies that the thing was looking like a worm. However, the test result will provide exact information about it.
Whatever it was it should not be there in the food item for sure.
McDonald's spokesperson offered an apology to the family and McDonald's spokesperson. However, McDonald has to take serious action on such incident to keep customers health and food safety at highest priority!
Source: LetsGoHealthy