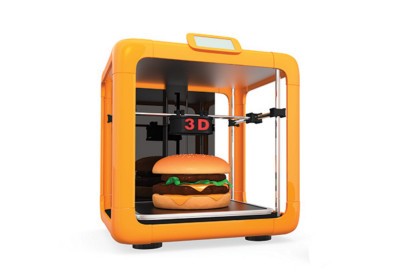 1. 3-D printed food
A machine that "prints" your food in 3-D is like something straight out of 1960s futuristic cartoon The Jetsons. These gadgets, several of which are being tested around the world, use ingredients as edible ink, usually in a dried powder or paste form.
The most success so far has been with novelty chocolate and pasta, but some predict there will one day be 3-D printers in home kitchens. Meanwhile, NASA has awarded a grant to a Texan company to look at how they could be used to feed astronauts on long space missions.
Dr Robert Gorkin, research fellow at the University of Wollongong, doesn't see 3-D printers replacing the home cook – they can take a while to "print" a meal, and the food currently isn't that appetising – but he does see a role for it in the area of health. "They're already being used in old-aged care, creating food that looks and tastes like broccoli, for example, but made from a purée so it's easier to eat," he explains. "And because you can basically punch in nutritional profiles, it may be good for people who want certain proportions of nutrients."
2. Test-tube burgers
Last year, Dutch scientists unveiled the first lab-grown burger patty. OK, so it took two years and about $370,000 to develop, but there are great hopes attached to this first effort.
The patty's creators believe it could revolutionise the food industry and help save the planet (because less methane-producing cows will be needed). They also predict that artificial meat products could be sold in supermarkets within a decade.
Synthetic meat may sound unappealing but no animals die in the process. It starts with stem cells that are taken from a cow shoulder muscle, then multiplied in a nutrient solution and put into small petri dishes, where they became muscle cells and form tiny strips of muscle fibre. About 20,000 strips of this fibre were used to make the 140g burger.
The brains behind the lab-grown burger, Professor Mark Post of Maastricht University, says he can see a time when people are growing their own meat in their kitchen.
3. Intergalactic orchards
Scientists are investigating growing fruit and veg on Mars and the moon. There are plans to establish long-term colonies on both galactic outposts, so they say it's essential the space explorers are able to grow their own produce as much as possible. Ecologist Wieger Wamelink, of Wageningen University in the Netherlands, is growing produce in artificial lunar and Martian soil (with some success) because he expects people to move and stay on the moon within 10 to 15 years. Perhaps other planets will be fruit bowls for an overcrowded Earth.
4. Super spaghetti
If the nutritional profile of the plants used to make our food can be improved at the source then consumers will eat healthier food. That's the premise of research being undertaken at The University of Adelaide's ARC Centre of Excellence in Plant Cell Walls.
The first pantry item that's being investigated is spaghetti. The scientists, in partnership with Italian researchers, are hoping to create a pasta that's higher in fibre, like a wholemeal variety, but without compromising on taste and texture. The ultimate aim of their project is to develop durum wheat (the main source of pasta) that can be used to make spaghetti with more and better dietary fibre.
5. Green and slimy superfood
A microscopic, bottom-of-the-food-chain plant has food scientists, environmentalists and even the UN excited. Microalgae is our most abundant biological resource, it grows fast and contains vitamins, minerals, fatty acids, essential amino acids, enzymes, phytonutrients and fibre. Scientists see it as "20 times more productive than conventional crops" because it doesn't require much water and is resilient in most environments. They believe it could be an answer to feeding the growing world masses when our agricultural space runs out.
Source: bodyandSoul